At any stage of your audit, you have the opportunity to generate an Audit File.
Generally, this file is generated once an audit is completed. The file can be generated before or after the audit job is changed to the completed status and moved to the Completed Audit Job queue.
Within both options, once you select "Generate Audit File" the below pop-up will appear.

You will receive a confirmation email when the audit file has been generated and is ready to download.

This can be generated and regenerated regardless of the job status, the 'Download File' option will become available after generation and the most recent generation time stamp will be captured.

From the Completed Audit Job Queue s
elect the 3 dot menu on the right

Select Generate Audit File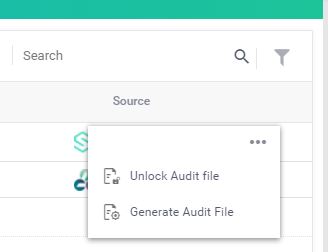 If the file has already been generated you will have the option to regenerate or download from the menu
Downloading Audit File

Once generated and the Download option is available (from Fund Dashboard or Completed Audit Job queue) select Download File.

The next action will vary dependent on your selected browser, compressing software and personal settings, the below example is from Chrome with WINRAR and defaulting all downloads to downloads folder.

Select Download File and a zipped folder is created and dependent on your browser and settings you can save or open.

A zipped folder will download to your computer.
The Zip folder contains 2 subfolders and a pdf report. The PDF report contains the full audit checklist and financial information. The PDF includes hyperlinks throughout which are directly linked to the source documents. Clicking on the hyperlink will open the source document.
Audit Reports and Letters

This folder contains all of the letters that were generated and saved for this fund in PDF format (eg Audit Letter, Management Letter).

Tagged Documents

This folder contains all of the PDF files that were tagged during the audit,

How to include documents from Unsorted folder in Audit File
If user require the documents in the Unsorted folder of job to be the part of Audit File then those documents have to be moved to Other Documents folder in the Document section then those documents will be available with the downloaded audit file.