Introduction
This article provides a step-by-step guide to troubleshooting issues with the Microsoft Office plugin installer for Cloudoffis. Here's a summary of the troubleshooting steps:
Process Outline
Uninstall the MS Cloudoffis Plugin.

Install the MS Cloudoffis Plugin.

Open Microsoft Word and check if Cloudoffis appears in the menu at the top.
Uninstalling MS Plugin
Control Panel



To uninstall MS Plugin from your device follow the steps given below.
Step 1: Open the Control Panel from your device.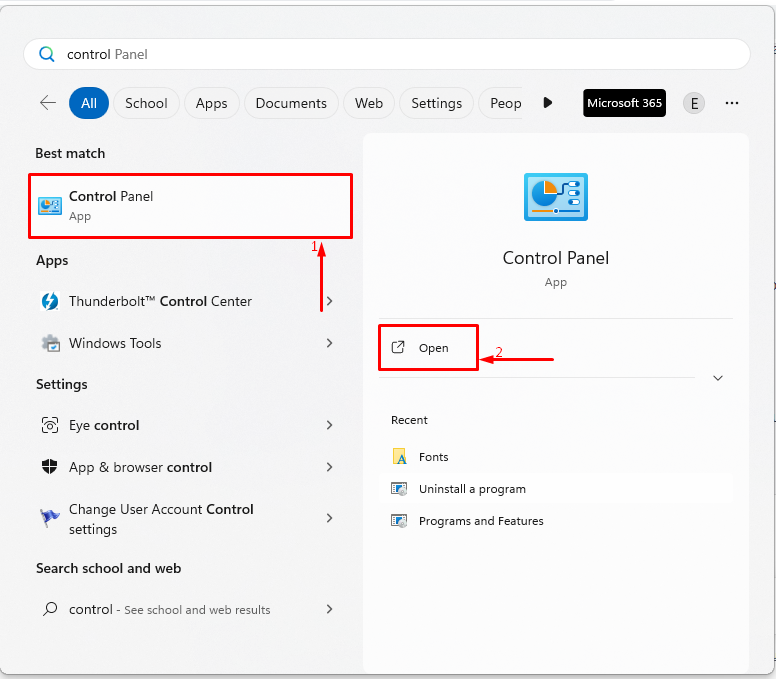 Step 2: Click on Programs > Programs and Features.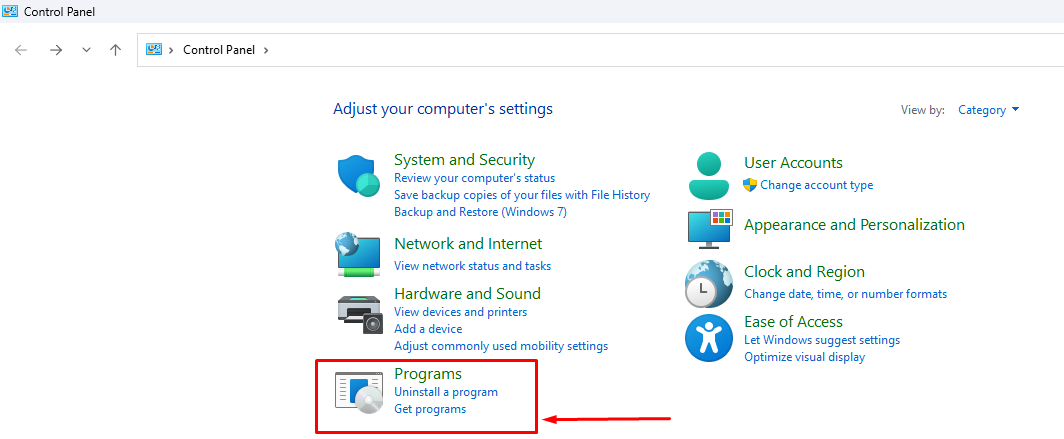 Step 3:
Right-click on
MS Cloudoffis
and click on
Uninstall
.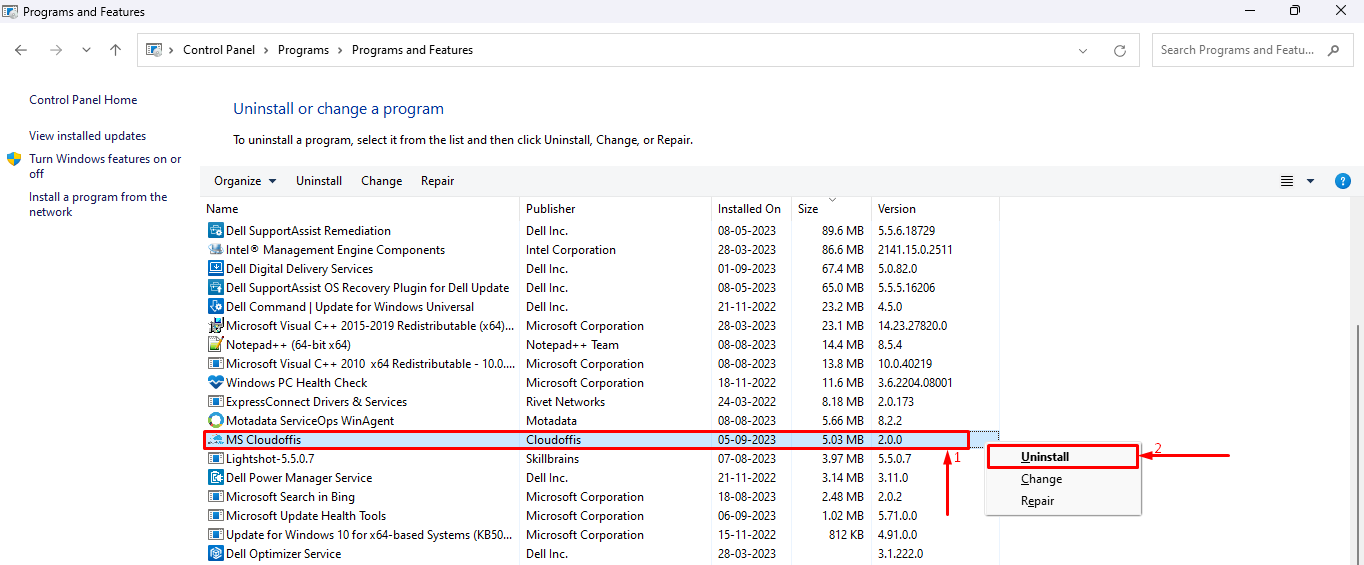 Windows Registry:
If issues persist after uninstalling the plugin, check the Windows Registry for any remaining Cloudoffis entries:
Step 1: Open the Registry Editor (search for Registry Editor in Windows).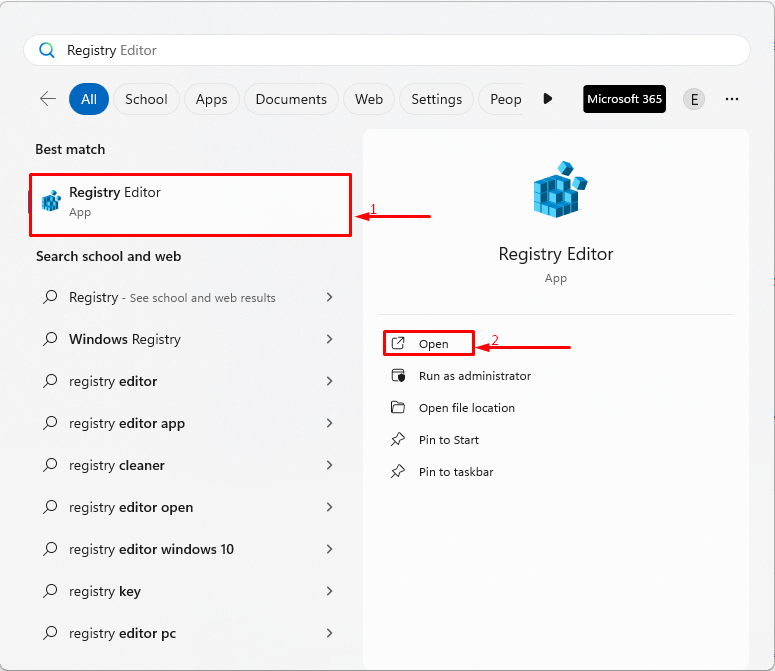 Step 2: Navigate to HKEY_CURRENT_USER > SOFTWARE > Cloudoffis.
Step 3: Right-click on Cloudoffis and select Delete.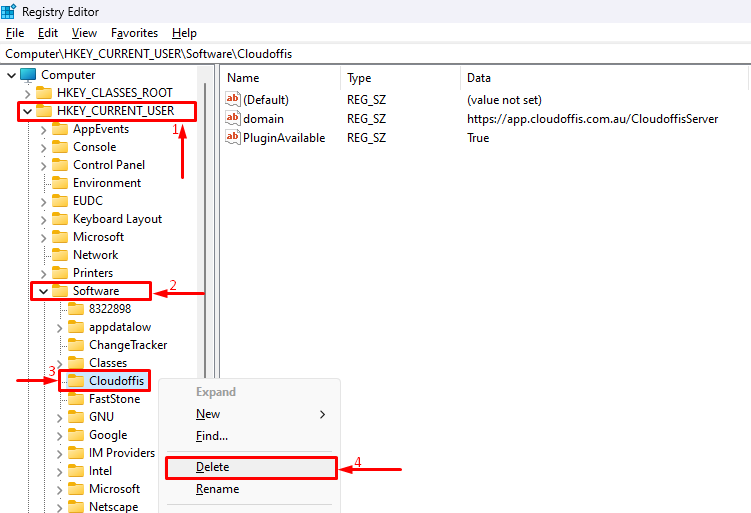 Final Steps:
Once the Cloudoffis entry is removed from the Registry, install and run the plugin installation again. Click here to learn how to install MS Plugin.
Additional Settings:
Step 1: Open Word, and go to File.


Step 2: Now click on More> Options.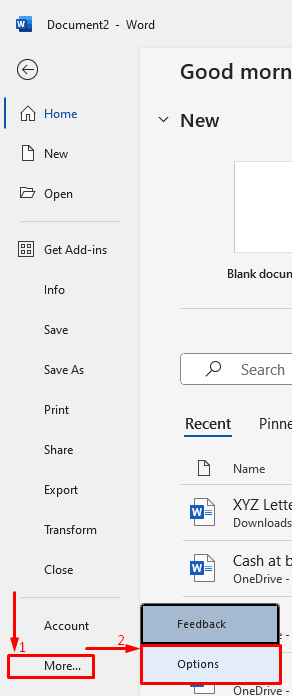 Step 3: Now click on Add-Ins
Step 4: Under Manage, select COM Add-ins and click Go.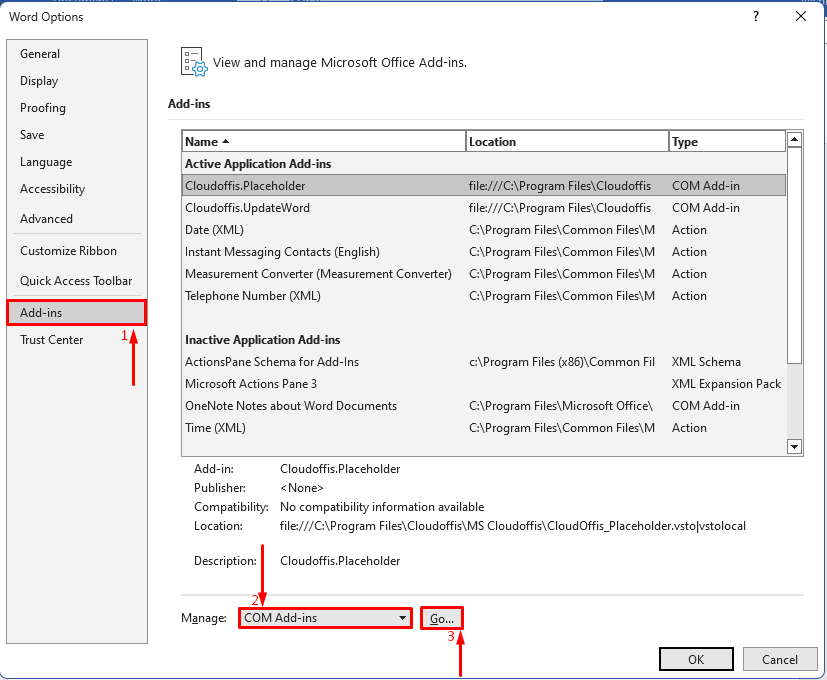 Step 5: Make sure that Cloudoffis. Placeholder and Cloudoffis.UpdateWord are selected and click OK.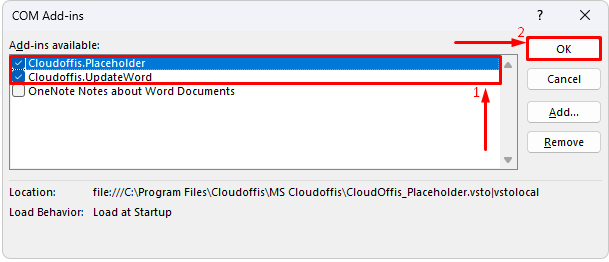 Step 6: Make sure you don't have Cloudffis in Disabled Items in Add-ins.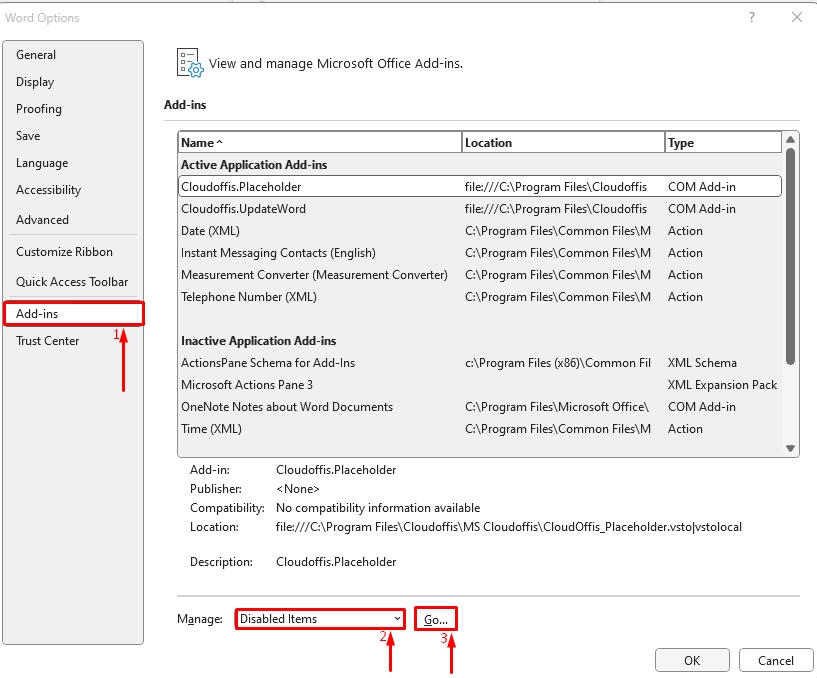 Step 7: If you do, select and Enable.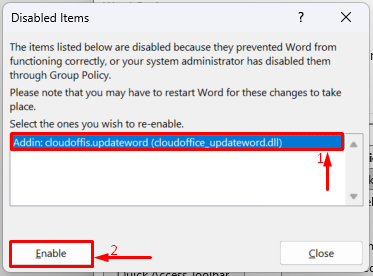 Step 8: Close all MS Office documents, reopen them, and check for the Cloudoffis tab in the top menu.

Note: If none of the steps mentioned above resolve the issue, you can attempt to resolve it by uninstalling MS Office and then reinstalling it. After the reinstallation, follow the above steps once more.
If problems continue to exist, contact Support via email and provide the following information:
Operating system version (e.g., Windows 10, Windows 7).

System Type (64-bit or 32-bit).

Office Word Version (e.g., Office 2019, Office 365).

User System Permission (Is the system logged in as Administrator or another role?).

Include screenshots of:




Word > File > Options > Add-ins.

Event Viewer > Windows Logs > System > General > Select the event.
These troubleshooting steps should help resolve issues related to the Cloudoffis plugin for Microsoft Office.